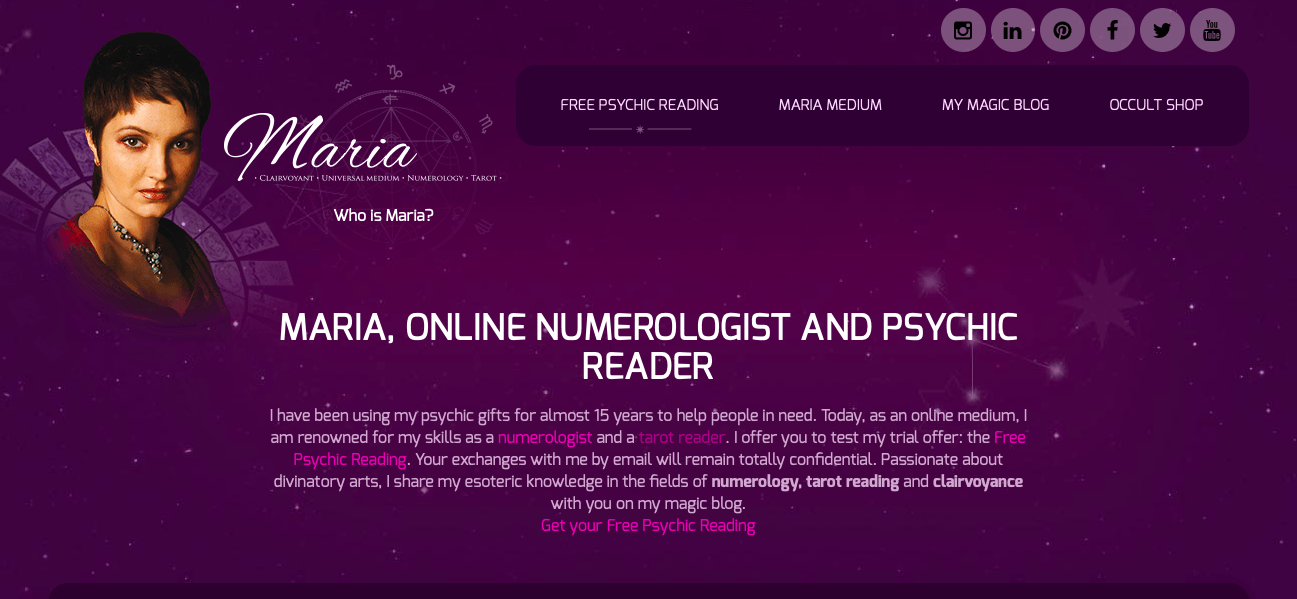 Medium Maria Review
Psychic Readings Available
Free readings
Screenshots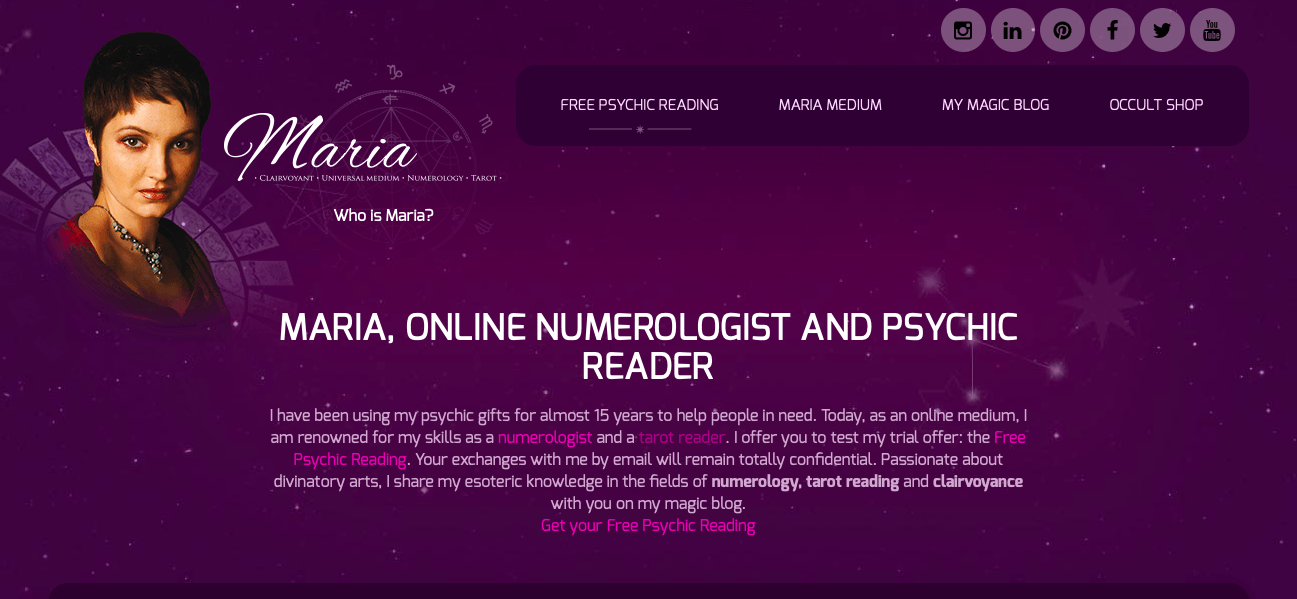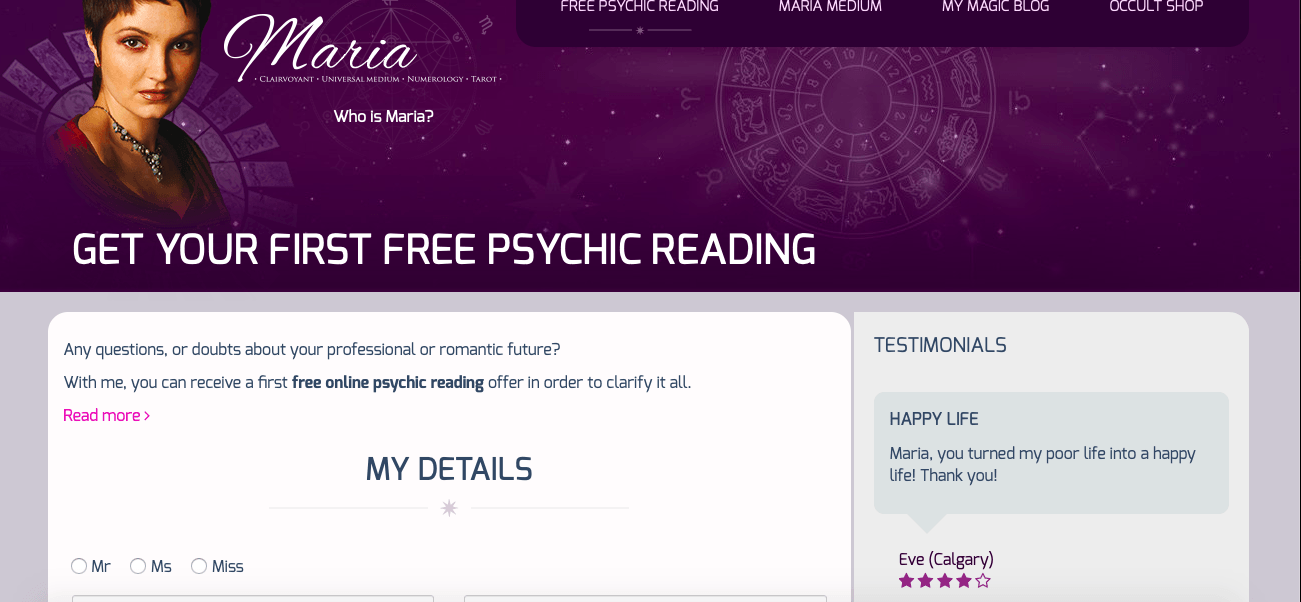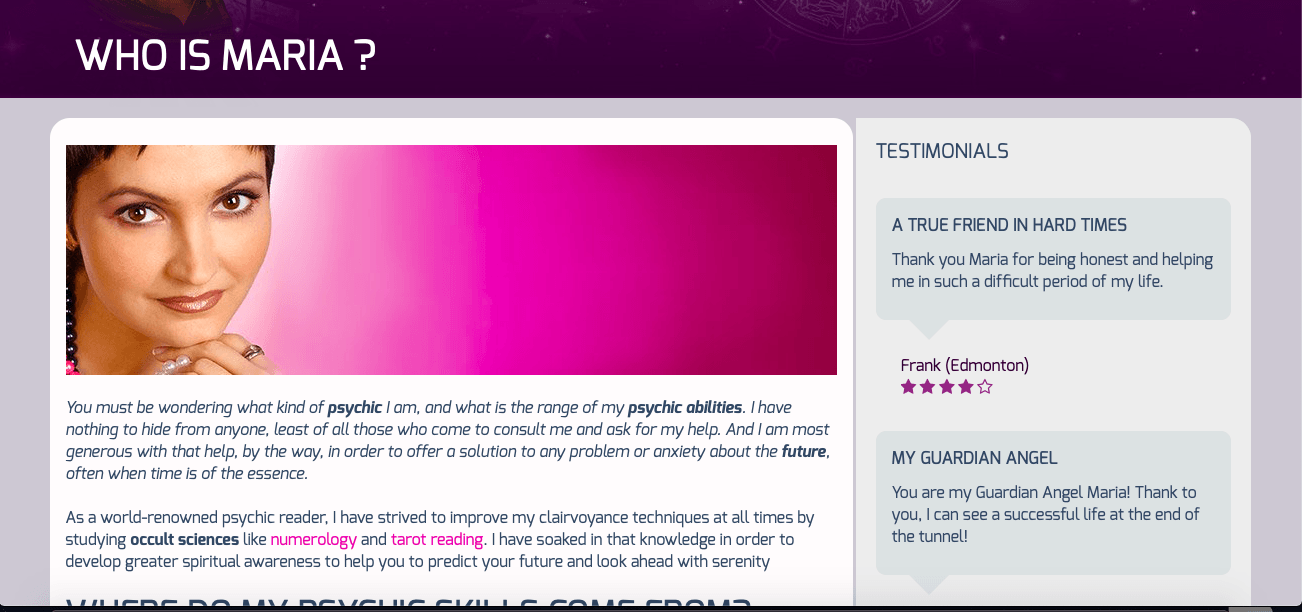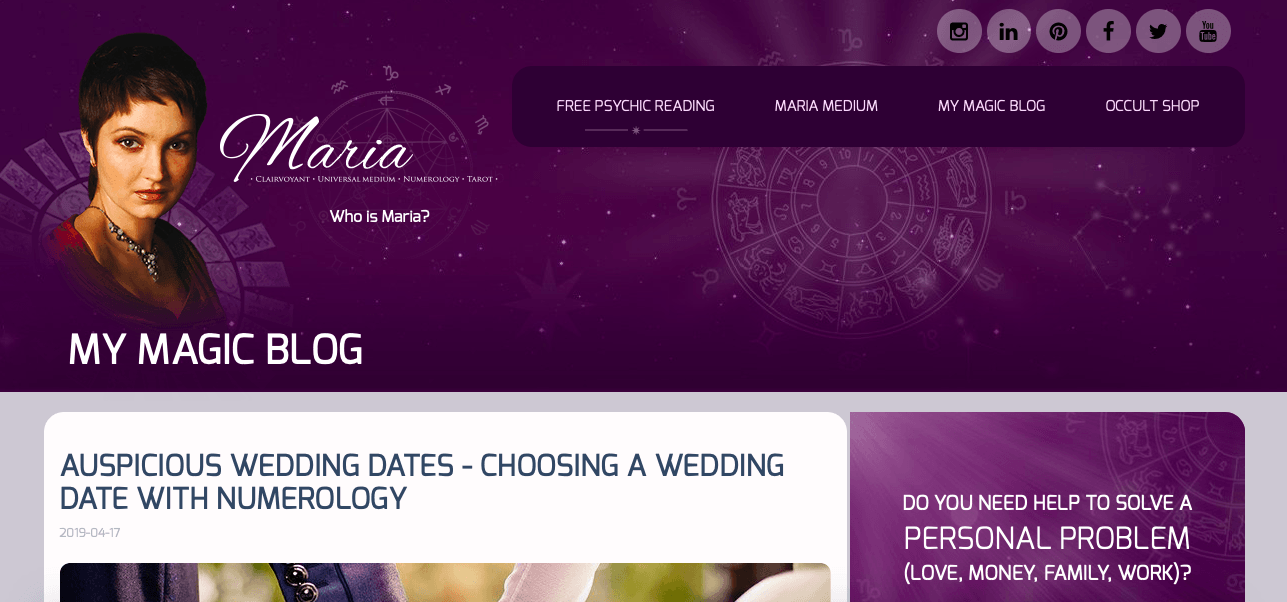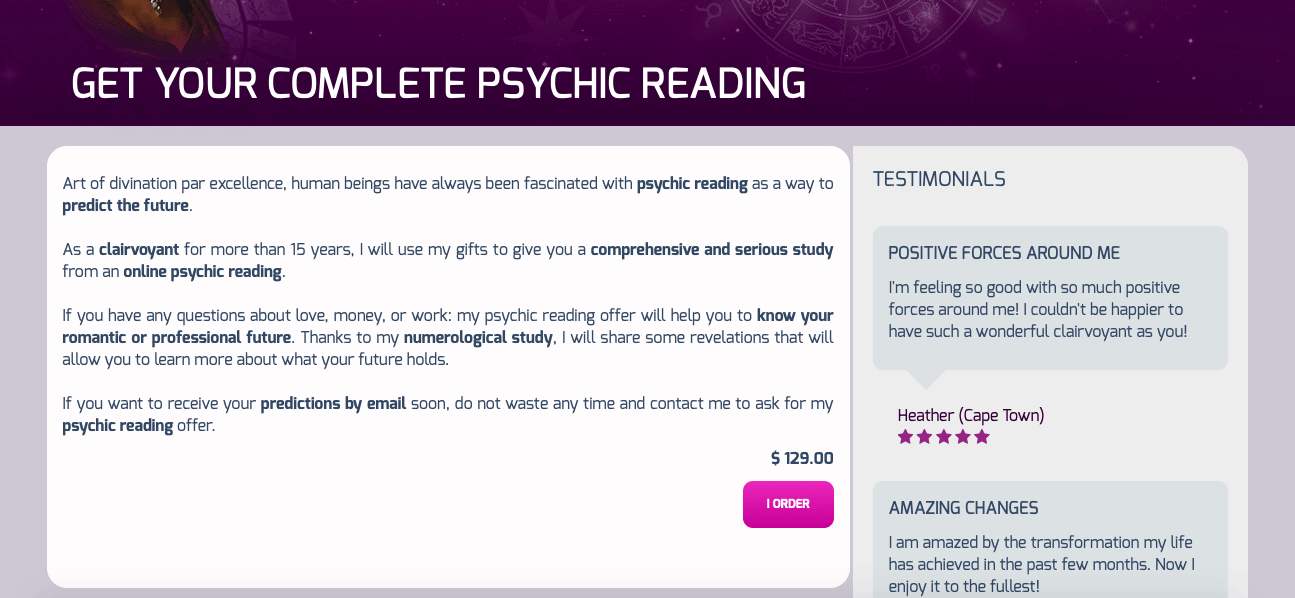 Pros and Cons
Can purchase a reading direct from the website.
This website makes more effort to provide some generic products and services than other similar sites.
The psychic readings found here are likely automated and fake.
Medium Maria Has To Be Real – She Even Has A Facebook Page
It may seem as though Medium Maria is a genuine and seemingly approachable psychic medium. In fact, she claims to be world-famous! It's easy to believe that Maria is real at first glance – she has her photo plastered everywhere and even has a Facebook page. But is she really legit? Or is this all just marketing to promote yet another 'out of the box' psychic scam?
Keep on reading to find out, but in the meantime, if you are looking for a genuine reading, we've got you covered – check out the link below:
Get A Genuine Reading From A Real Psychic In 5 Easy Steps 
Visit

Psychic Source

.

Register your details.

Select your favorite available psychic from the choices shown.

READINGS: AS LOW AS $1.

Click 'Call' (the psychic will call you back).
Who Is Medium Maria?
Apparently, Medium Maria claims to be one of the best world-renowned psychics and tarot readers 'in the whole world'. The phrase 'in the whole world' may make you smile, It's the kind of thing children say when they are playing but it's probably not something that a legit world-renowned psychic would say. We can't imagine Psychic Sally or Hollywood Medium making such claims. But Maria does make such claims and it triggers alarm bells.
The thing is that Maria may claim to be world-renowned, but we can't find any evidence of this. We couldn't find any evidence of any public appearances from Maria either. Nor could we find any photos, products, live performances or any history about Maria at all which is unusual. If Maria is a legit, world-renowned psychic she'd have something we could research.
In fact, Maria's image is a stock image, available for anybody to purchase and use to create their own fictional characters too.
What we are saying here is that Medium Maria is not who she claims to be. There is not one piece of evidence to support her claims, but plenty to counter them.
So, to answer the question 'who is Medium Maria?'. She is a fictional character created by Mediaweb Ltd. Mediaweb promotes fake psychic sites and operates via email to emotionally manipulate people into parting with their money through readings.
What Services Does Medium Maria Provide?
Medium Maria offers the traditional free reading, which can be found on almost all psychic scam sites. She also provides a few ebooks on her website too. Surprisingly, you can also order a reading from Maria.  
This is an unusual feature on this type of psychic site because they usually like to invite you to have a reading after they've emotionally manipulated you via email. By providing a paid email reading, Maria makes sure that she captures those customers who are quick to purchase, which is a smart move on 'her' part but unfortunate for anybody who shells out over $100 to get a fake reading!
How Do We Rate Readings from Medium Maria?
We know that Medium Maria's readings will be automated because she is not real.  So we don't rate them at all.  
Is Medium Maria Legit?
You've probably already figured out by now that we don't believe Medium Maria is legit.
How Does the Service from Medium Maria Compare To That of Psychic Source?
Psychic Source is one of our most highly-rated psychic providers. It's easy to see why because if you take a look at their website, they stand out in every area. So we decided to see how Maria compares so that you can make the best decision about what psychic provider you should use.
Website Navigation
Both websites are easy to navigate. While Psychic Source's website contains much more information; it is still extremely navigable. Maria's website, on the other hand, is simple, with less information. But it's easy to move around and easy to purchase from.
The Quality of The Readings
Psychic Source offers a wide choice of readings. So, except for spells, they pretty much provide any reading that is beneficial to their customers. They also have a wide variety of extremely skilled psychics available around the clock. This means that you can get a high-quality reading, any time you want one.
You can purchase a paid reading directly from Maria's website, which is unusual for this type of site. But there is also the free reading offer. Either way, it doesn't matter what you purchase, you'll need to supply your email address to place your order. And you can be sure that if you do hand over your email address, you will receive manipulative emails in the future.  
As for the quality of Maria's readings, well, they are likely fake. We have no evidence to prove she is legit at all, and cannot, therefore, expect the readings to be real.
Choice of Services
Maria does a decent job of providing a variety of interesting services. It's just unfortunate that we don't expect the quality of them to be very good at all. Psychic Source, on the other hand, offers a wide selection; not only in the types of the readings provided but in the different psychics available and all of them are excellent quality.
Price
Medium Maria, charges $129 for a fake email reading, whereas Psychic Sources' genuine readings range from around $1 per minute for new customers upwards. The issue with Medium Maria's readings is that they'll probably bring more problems in your life.  These problems are intentional so that you become reliant on Medium Maria to help solve these problems through her fake and expensive readings. 
Offers
Psychic Source has an introductory offer for new customers at $1 per reading, which is a great way to check out their psychics. The only offers you receive from Maria are free, fake and automated readings.
Service Guarantees 
Medium Maria doesn't seem to provide a service guarantee. Meanwhile, Psychic Source offers a 100% customer satisfaction guarantee and the requirements for making claims are clearly laid out in Psychic Source's terms and conditions. It's a simple, no-mess process.
The Psychic Verification Process
All psychics working for Psychic Source are stringently verified. The psychics are also monitored to ensure that they provide the highest quality and most ethical readings for their customers.  
Maria is not verified. There is no way to verify 'her' at all; not even by searching for her online. However, there are a few complaints and abysmal reviews for Maria.
Quality of Reviews
Psychic Source provides real-time reviews made by their customers. All reviews; the good, the bad and the ugly are displayed on each psychic's profile so that you can make the best choice about which psychic is right for you.
The testimonials for Maria are probably fake. Everything else is, so it makes sense that they are too, mainly because the images of the people leaving the review are stock images!  
The website owner will have had to add the testimonials, which also means that they are probably curated. The testimonials don't populate in real-time as and when somebody has enjoyed a reading (like they do on Psychic Source).
There are never any bad reviews on Maria's website, which is unusual for any psychic… even the best psychics. Although to counter this issue and appear to be more realistic, Maria's testimonials are all four stars instead of the five, which is mildly laughable.
Overall Tone
Maria's website may, at first, seem to be mystical and genuine – at least it would seem this way to the untrained eye. It might even seem to be professional. While we can't argue that the systems and setup of Maria's site are not professional, because they actually are, we know that the professionalism is a distraction.
What Problems Have We Found With Medium Maria?
Maria is not a real psychic, the image of her is a stock image of a model, and her history is fictional.

The website is set up to scam you in exchange for a fake and automated reading.
What Advantages For You Have We Found With Medium Maria?
None! But the four out of five-star testimonials, and the best tarot reader in 'the whole world' comment did raise a smile. 
Do We Recommend Medium Maria?
Not at all!
A Professional Looking Psychic Scam Site!
If you've reviewed Medium Maria's website yourself, congratulations; you've just witnessed a psychic scam site! It may look professional and above board, but it's not. It's just a shame that the people behind such sophisticated systems don't rethink and create something legit and genuinely valuable for others instead of scamming them.
If you are looking for a psychic, we recommend you avoid Maria like the plague and check out our top-reviewed psychic providers listed below. We can guarantee that the psychics you find there are legit, monitored, verified and real.
Here Are Our Top Rated Psychic Providers
Click the links and follow the instructions to book your reading now. 
Visit Psychic Source for Your Reading Today!
September 2023
All Psychics are:

Expertly Reviewed,
Available 24/7,
Mobile Friendly
Rank
Website
User Rating
Offer
Features
Visit Site
1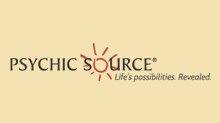 1
Chat from $1 per min
Up to 90% off your first reading
Have you ever registered your email with Medium Maria? What was your experience? Let us know in the comments below!