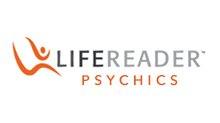 Get 50% off + 4 FREE Chat Mins
$0.19 p/m for first chat!
Sexy looking website
Mind, body and spirit readers
LifeReader Review
Psychic Readings Available
Phone readings
Horoscope readings
Tarot readings
Screenshots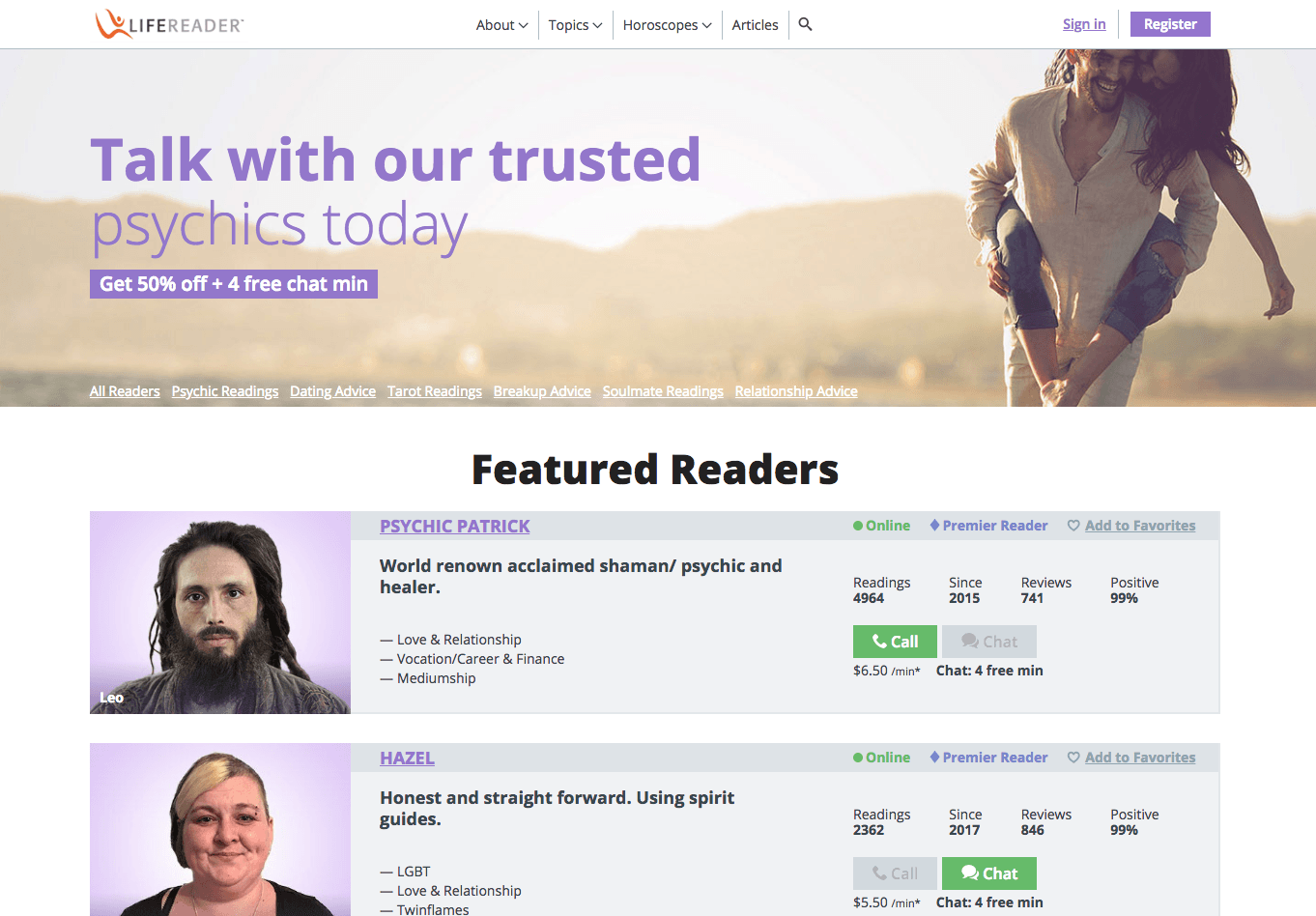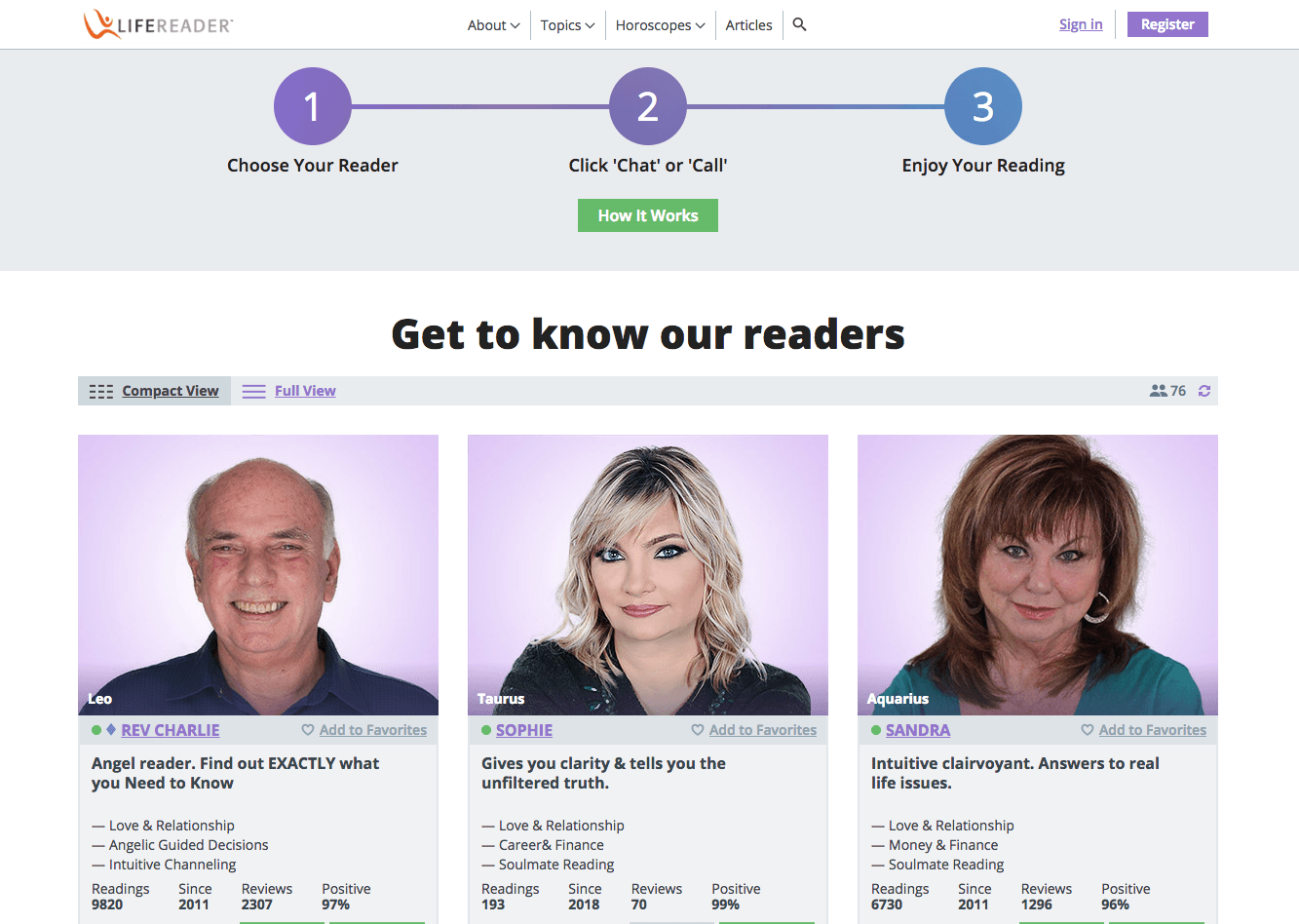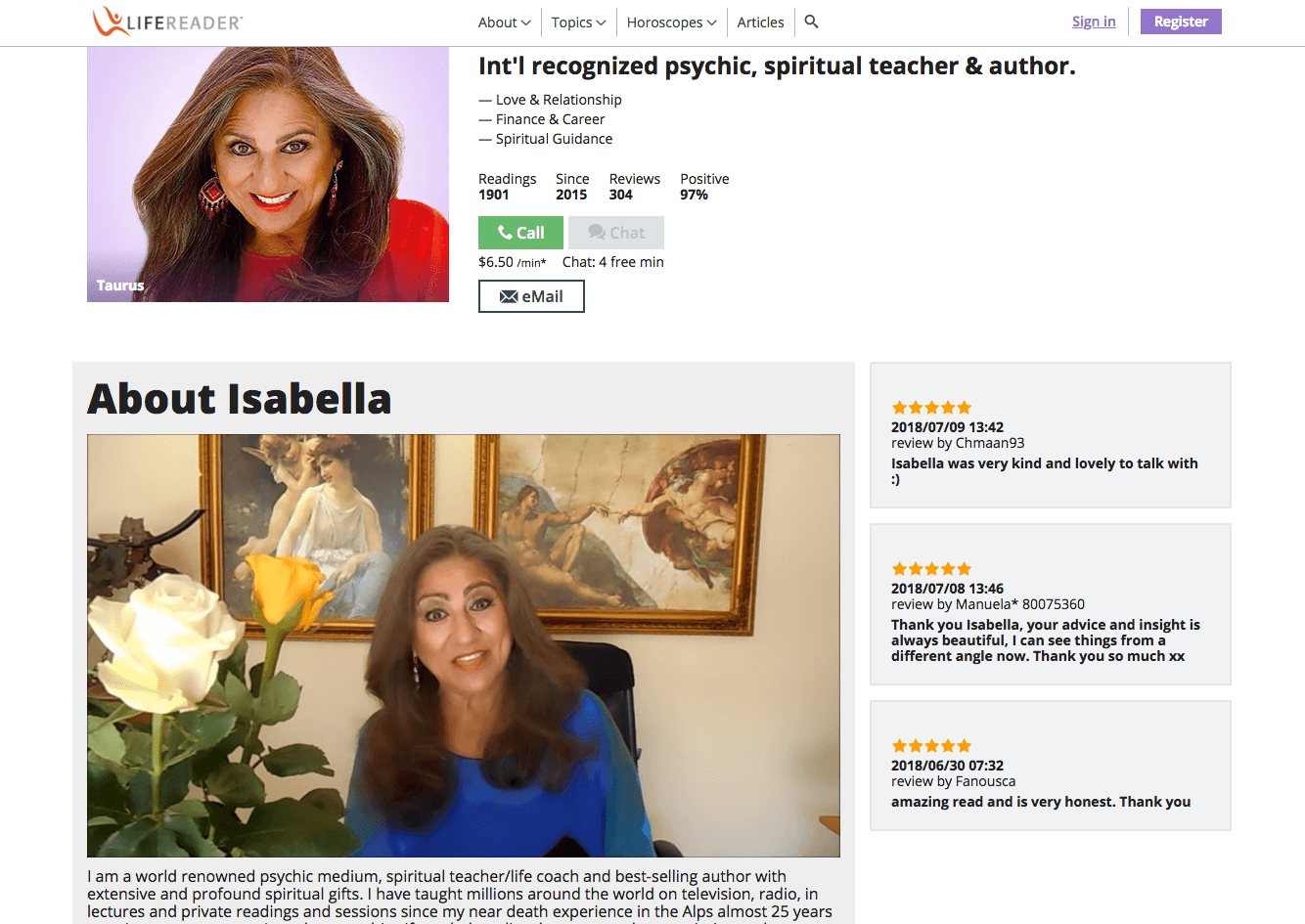 Pros and Cons
free 4 minutes of chat with any reader for new customers
10 minute calls for only $.19 a minute for new customers
an internationally recognized group of readers available 24/7
compassionate and caring readers
accuracy you know you can trust
helpful blog around spiritual topics
4 different kinds of free horoscopes!
a wide range of readers with different unique skills
some of the lowest prices on the web after the initial offer
package deals as low as $40 value for $20, and $60 value for $30
There's no option to video chat or see your advisor
There's no phone app
the first 4 minutes are free only when you're a new customer- after that you pay their listed prices
With so many gifted physics to choose from, it can be hard to pick one!
Are LifeReader Psychics the real deal, or a scam?
When you're considering seeking out a psychic, there are a lot of options online to choose from! When you search for online psychics, you'll find so many results that you never know which ones are legit, and which ones are a scam!
So it's our job to search out all the most popular sites online for getting a psychic reading, and see if they're the real deal or not. Then you can know which psychic sites are a scam, and which ones can actually benefit your life!
LifeReader Psychics is one of the most popular sites to get a reading from, so we wanted to dig a little deeper into the details to see- are LifeReader Psychics the real deal, or a scam?
Curious what life has in store for you ahead?
1. Visit LifeReader Psychics
2. Choose your reader
3. Click chat or call
4. Get the first 4 minutes free!
5. Enjoy your reading
How do I know LifeReader Psychics isn't a scam?
LifeReader prides itself in hand-selecting the best psychics from around the world!

Based in New Zealand, they attract and serve a worldwide clientele. They also have readers from a variety of cultures and nationalities.

Some of the top internationally recognized psychics choose to work with LifeReader because of their great reputation.

You can see by the length of time many of the psychics have been with LifeReader, many since its inception in 2011, that LifeReader is a company that is dedicated to service and commitment to both their customers and the readers they work with.

You can even see positive reviews the readers have left about working for the company as a LifeReader psychic. It truly feels like a place where they can make a difference.

That's what makes LifeReader Psychics stand out!

They are compassionate, non-judgemental and truly here to help provide benefit to their clients with their unique gifts.

They're grateful to work for LifeReader, as it opens up a whole new world of clients, allowing them to expand their gifts into all corners of the globe. They truly love to connect with people they may have never met otherwise.

Are you next?

The LifeReader Psychics network is built from a vast network made up of internationally recognized:
psychics
empaths
life-coaches
shamans
healers
angel readers
clairvoyants
teachers
authors
energy healers
mediums
intuitive channelers
spiritual guides
tarot card readers
astrologers
love & relationship experts
hypnotherapists
and more!
What can I learn from a LifeReader Psychic?
At LifeReader, they are committed to providing accurate, honest life guidance to help you move forward.

You can rest assured the psychics at LifeReader are not here to scam you, but rather to provide you with avenues to help you move past your struggles.

A psychic can be helpful especially when you're feeling in doubt, or have too many negative thoughts in your mind to think clearly. They can help cut through the haze in your mind to see what the solution is.

They offer psychic readings, dating advice, tarot readings, breakup advice, soulmate readings, relationship advice, astrology horoscopes, and readings to help heal your mind, body & spirit.

At LifeReader you can find out about your:
spirit guides
twin flame
infidelity
soulmates
ancestors
angels
family members
relationships
career & work
love life
money & finances
past lives
karmic relationships
soul purpose
animals
goals
dreams
How do I prepare for my psychic reading?
Write down the questions you want to ask!
It helps to write down whats on your mind beforehand, so you can use your time with your LifeReader Psychic more productively.
You want to ask clear and specific questions, in order to get the most accurate insight into your life.
Try to relax and let go of nervousness
Your energy can affect the reading, and if you're too nervous, you may be closed off to hearing what you need to hear.
Take some deep breaths before you press that call or chat button. Have your questions ready.
You'll be in good hands, with a professional LifeReader psychic who can help guide you every step along the way.
Make sure there will be no distractions
It's helpful to be in a quiet room with no distractions for your reading with your LifeReader psychic.
This can help clear the way for you to be open to hearing the messages you will receive
It can also calm your nervous system so you feel more at ease and able to stay focused on your reading.
Your distraction can often throw the energy of the reader off.
Interact with the reader and keep the energy flowing
Don't be afraid to interact with your LifeReader psychic, and answer their questions!
Share your backstory! Give them information!
The more you can be clear about what you need, the more accurate and helpful answers you're going to get from your reader.
Don't withhold or feel like you need to test if they're magic or not.
They're not mind-readers. (Ok, well some of them actually are :))
They need you to share your struggles and feelings, so they can give you a clear and accurate reading.
Prepare for the unexpected!
You may hear some unexpected or surprising things in your reading at LifeReader!
That's why it's helpful to calm down, stay focused, and make sure you're in an open and receptive state.
You don't want your defenses to be raised the second you hear something that may be different than what you were expecting, so stay open to all possibilities.
Know that the psychic's job is to help you weigh your options and find the path to your highest and best healing.
What should I expect from a psychic reading?
An exceptional reading from an experienced LifeReader psychic could be truly life-changing.

They are great at shifting your perspective, so expect to be thinking about your situation a little differently after the reading.

You'll often find more clarity and confidence in what decision you need to make, or the next step to take to move forward.

The LifeReader Psychics can provide you with valuable information that can help you make better choices in your life.
They help bring information to light that is currently hidden.
They help you understand how you arrived at your current state, via your past, and what's up ahead for you in the future.
They provide direction on your love life, relationships or career
They help you choose the right path if you're at a crossroads in life
They bring your awareness to potential solutions and avenues you haven't considered yet
They look more deeply into your circumstances, and all those involved, to help get things back on track
They help you identify the key factors involved in your happiness and success
They help you identify the blocks and negative beliefs you must release in order to get where you want to go
They help you find faith and hope in the future up ahead, and more acceptance of your current situation
They provide solace and encouragement, guidance and inspiration, to lift your darkness when you need it
They offer advice, solutions, next steps and real life changes you can make to better your life
They help you connect with and develop your spiritual awareness
They restore calm and clarity so you can move forward towards what you know you have to do
They bring answers to all your innermost questions!
How will I know if my LifeReader Psychic is a scam?
You can rest assured your LifeReader Psychic is not a scam. They are compassionate and competent healers and truly gifted psychic guides.

Your own openness to the reading and the state you're in is part of determining whether or not your reading will feel like it's a scam.

For instance, if you don't immediately resonate or agree with the information given to you, you think, WRONG! And immediately start to think that psychic is just trying to scam you.

That's why it's important to sit on the reading afterward for a bit. Take it in. Let it sink in. And then see where you land on if there's any truth to it.

Sometimes the truths we don't want to hear most, and the ones we need to hear most. And often those truths are revealed during your psychic reading!

So if this happens, remember to stay open to receiving the information, and remember that it's a projection based on your current trajectory.

If you don't like what they say is coming your way, you can change it!

And just because you change it, by taking a different action and affecting some different energy into your life, that doesn't mean your psychic reading was wrong.

It may have actually been the very thing that spurred you into making those changes in your life- just to prove the reading wrong! Which in reality was proving it was right, as the best psychic readings always direct you towards your highest good and healing in any way possible. Even in roundabout ways.

There are some red flags to watch out for when it comes to judging if your psychic is a scammer or not…
are they stalling on information, trying to get you to re-up before they really give you some good details?
are they making doomsday prophecies for your life yet offering no solution, except for maybe their special magic potion or more time with them?
do they say you have a curse or dark spirit that only they can remove?
do all of their answers for you sound like fairytales, like they're just trying to tell you what they think you want to hear to keep you on the line?
do they flip flop a lot during a reading or seem all over the place?
are their answers very vague and general, even to your very specific questions?
do you just get an icky feeling about it?
You will likely know the feeling that you're being scammed when you experience it, and these are some of the red flags to look out for.

But rest assured that the compassionate psychics they hand-pick to work at LifeReader are some of the best in the world! They have the thousands of readings and reviews from happy customers to prove it.
Are there any specials at LifeReader for new customers?
LifeReader is so confident you'll love chatting or speaking with one of their trusted psychics, they have great offers for free and discounted rates for new customers!

Ready to see how LifeReader Psychics can help you set sail? Check out these SPECIAL OFFERS!
For new customers, LifeReader Psychics offers 4 free chat minutes with any reader!
You can also get your first 10 minutes of a call for only $.19/minute
There's also special packages where you can get a $40 value for only $20, or a $60 value for $30!
What kinds of different readings can I get from LifeReader?
They have such a wealth of different types of psychic readings and spiritual counseling available at LifeReader.

Under Psychic Clairvoyants, you'll find psychics who specialize in:
Channeling
Crystal Ball Readings
Spiritual Readings
Angel Readings
Psychic Medium
Rune Stone Readings
Tea Leaf Readings
Shamanism
Dream Interpretation
Automatic Writing
Oracle Readings
Paranormal Phenomena
Mind Reading
Under Tarot Card Readers, you'll find psychics who specialize in:
Lenormand Cards
Skat Cards
Crowley Cards
Kipper Cards
Angel Cards
Rider Waite Cards
Osho Zen Cards
Other Tarot Cards
Under Astrology Horoscopes, you'll find readers who specialize in:
Horoscope Readings
Indian Astrology
Vedic Astrology
Chinese Astrology
Karmic Astrology
Classical Astrology
Numerology
Natal Chart Readings
Under Love & Relationships, you'll find psychics who specialize in:
Dating Advice
Love & Sex Advice
Family Advice
Soulmate Readings
Relationship Advice
Past Life Readings
Karmic Relationships
Breakup Advice
Under Mind Body Spirit, you'll find healers who specialize in:
Reiki Healing
Aura Readings
Feng Shui Advice
Spiritual Healing
Sexual Counseling
Diet Advice
Spiritual Guidance
Fertility Readings
Chakra Readings
Naturopathy
Animal Communication
Life Coaching
Anger Counseling
Crystal Healing
Motivation Guidance
How do I choose the right LifeReader Psychic for me?
If you're interested in any of those specific types of readings above, start there to narrow down your search as to which LifeReader psychic would be the best for you!

Then you'll want to check out their qualifications, what they focus on and their reviews.

Look for a green chat or call button to let you know they're available right at that moment to help! A yellow busy button will appear when they're on with another customer.

You can also call to book appointments with some psychics that aren't available at the time, if you prefer.

When you're looking at their profile information, and how they can help you, also think about, what style of reading do you prefer?
How do you like the information to be given?
Are you looking in particular for someone non-judgmental?
Someone who goes straight to the point?
Just want the most accurate psychic?
Or one with a heart full of compassion for your situation?
Whatever style of reader you're looking for, you can find one to match your needs at LifeReader!
Which are the best LifeReader Psychics?
Still on the fence? We went through the large selection of LifeReader Psychics to see which ones stood out to us.

We looked at:
Quality of their reviews and star rating
Length and quality of their experience and reputation
Their unique skills and psychic gifts
The different reading styles the offer
The accuracy and skill of their readings
After checking out profile after profile of their skilled readers, we realized that you really can't go wrong with any of them. They all have unique talents, gifts, traits and ways of being that will either connect with you, or not.
It really is up to you which LifeReader Psychic you choose, and we encourage you to go with your intuition when selecting one. 
But here are a few that stood out to us as being at the top of their fields.
These psychics are some of the best at LifeReader right now:
Psychic Aura
Her specialty is in uniting people with their soul's purpose, and their soulmate! Any questions of the heart can be answered by this gifted psychic healer and coach. Her certifications in different areas like Hypnotherapy, Psychology, Life Coaching, Theta Healing and Law of Attraction Counselling and even teaching yoga! She's a well-rounded and vastly experienced teacher and counselor who can help you reach your highest callings.
Psychic Patrick
This Himalayan trained Shaman brings his authentic and unique gifts to LifeReader, and has a sincere, down-to-earth approach in delivering information. He's deeply caring, compassionate and has over 25 years experience as a reader and healer. He can help you shift your focus back to the glass half full, as he believes there is always a way to do so. He's fully trained and initiated in the Kabalah, Yoga, Tantra, Himalayan Shamanism, Coptic Mysteries and well researched into western Occultism, Alchemy & Jungian Archetypes, so has a very wide range of skills to fall back on, and help you through any struggle.
Psychic Ann
She's one of LifeReader's premiere readers, who has delivered tens of thousands of readings to customers there in only the last few years! She's prolific and helpful with 99% positive reviews. She helps you hear the messages of your angels and other heavenly bodies, and offers straightforward, candid information to help you with your issues. She can help you with love and relationship questions, family and marriage issues, career and personal growth, through her readings, crystal healings and psychic mediumship!
Have you ever tried LifeReader?
Let us know what it was like, we'd love to hear in the comments below!