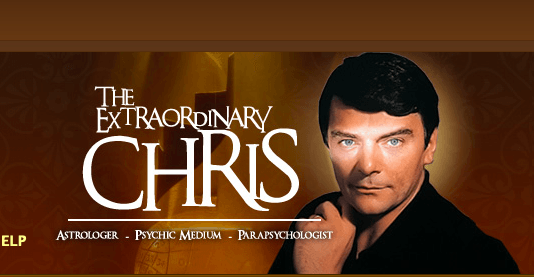 Extraordinary Chris Review
Psychic Readings Available
Email readings
Screenshots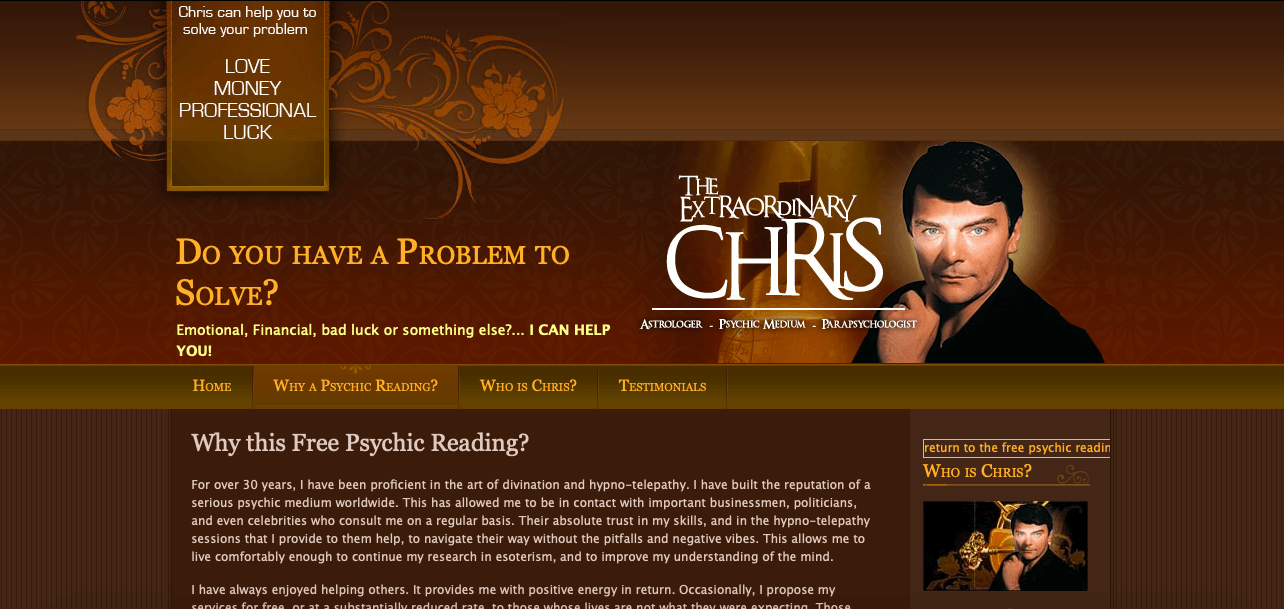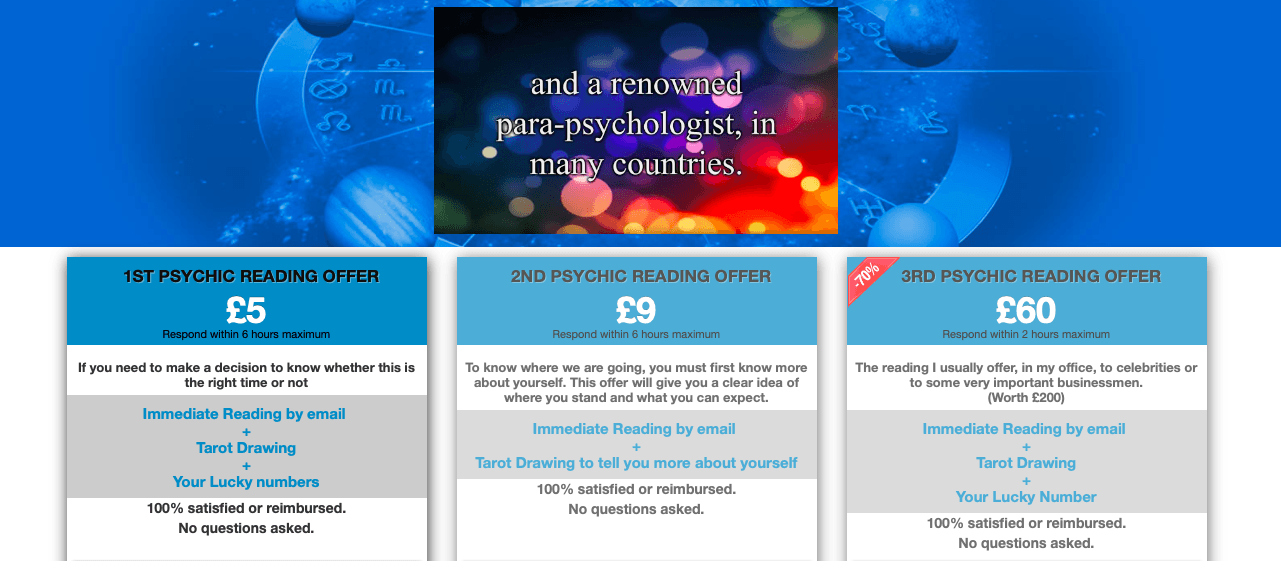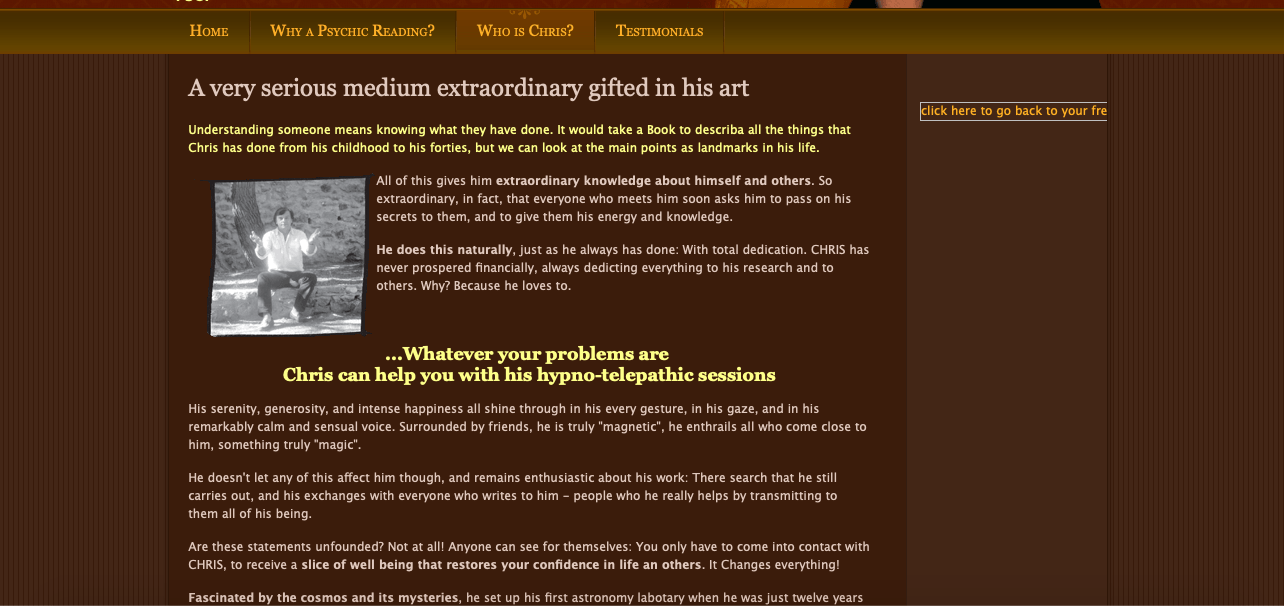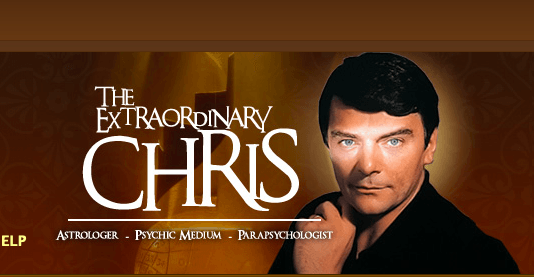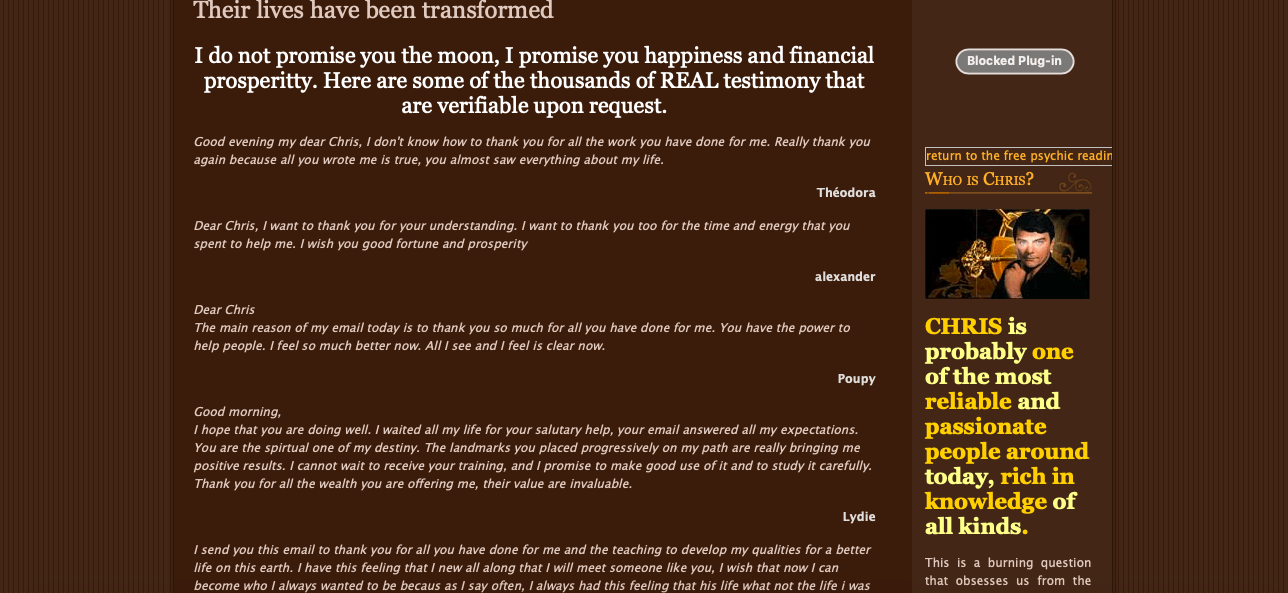 Pros and Cons
Occasionally Promotes Free Readings
Email Readings Only
No facility to connect directly with Chris viat chat or telephone
Free readings are provided to capture your email
You'll receive plenty of emails after your free reading
The emails often invoke a sense of fear, hope or curiosity
This site uses hypnosis and psychological manipulation to promote their services
"Canned messages so blatant they are eye-roll worthy."
This is the kind of information you'll find online about 'Extraordinary Chris'! If you check out the full review responsible for the quote above, you'll find that Chris's personal free readings are the same for everybody. We've linked it at the end of this review. The comments on that review confirm that the same reading is sent out to everybody and confirm that Chris does indeed send out canned responses.
We are not starting on good ground with Chris, that's for sure. But we expected this. Over time you begin to develop a nose for the good psychics and the bad ones. Chris is a bad one. Or at least the marketing machine linked to the website associated with Extraordinary Chris is.
So if you are looking for a genuine psychic, this is not the place to go. We cover the reasons why in more detail below. But for those who have already seen enough, here's a link to a genuine, highly-rated psychic provider that we cannot fault!  
Get A Genuine Reading From A Real Psychic In 5 Easy Steps
Visit

Psychic Source

.

Register your details.

Select your favorite available psychic from the choices shown.

READINGS: AS LOW AS $1.

Click 'Call' (the psychic will call you back).
Who Is Extraordinary Chris? 
The only thing that we can tell you about Extraordinary Chris and his psychic ability is what he has written on his website. In other words, what he wants you to know.  
Apparently, Extraordinary Chris is charismatic, gentle, provides a lot of strength to others and is well-practiced in his fields of hypno-telepathy and divination. Chris boasts 30 years of experience as a psychic and claims not to prosper financially from his work but instead give back to others or his research.
Sounds like a good guy, doesn't he? But we've got a couple of questions:
If Chris doesn't profit financially, why does he have a very organised and well-written marketing system with his name and face all over? 

If he is so well known, why don't people mention him occasionally in the news or other outlets?
New Lotus Web Own And Run The Website Extraordinary Chris
The answer is because 'Extraordinary Chris' or New Lotus Web Ltd, the company behind the marketing system called 'Extraordinary Chris', does make money from these fake 'readings'.
As for Extraordinary Chris, well, there is a man who looks exactly like the person on the images of Psychic Chris's website who does not speak English, and who goes by the name 'Extraordinary Chris'. He also appears to be at least involved in hypnosis.
However, his clothes and videos all appear to be very dated, which leads us to assume that the original 'Extraordinary Chris' (the person whose image is on the Extraordinary Chris website) has either sold his brand, or he is deceased. So, somehow, a company called New Lotus Media gained the rights to use his name and image. Or Chris has created a marketing system himself which is now owned by New Lotus Media.
Very Misleading
So in other words, there is a person who exists or who has existed called Extraordinary Chris who appears to have some hypnosis abilities. But we don't know if he's still involved with the site; we doubt very much that he is. And we don't know if he was ever involved.
We could not find any evidence that Chris is psychic. So, if you are not certain that you are receiving a reading from a genuine psychic, then how can you be sure that the reading is true?
The answer is you can't, which renders the psychic or tarot reading useless.
What Services Does Extraordinary Chris Provide?
Chris's services are mainly email readings, which you can book and pay for directly from his website. Or you can enjoy a free reading. Well, that's what it says on Chris's website. However, it seems that you can only get a free reading if you find a link to it. Apparently, Chris adds the link to his website when he's sitting at the office ready to take new readings.
We have bookmarked the website and checked regularly (as advised by Chris), but the link has never appeared. It is leading us to believe that it's possible that either the link is permanently broke or the wording is there to put you in the mindset of wanting a reading from Chris.
And when you are in that mindset, then you'll probably take advantage of Chris's reading offers for only £5.
But there's an issue with this…
How Chris Tests You
Aside from the fact that we've already determined that Chris sends out canned responses and the readings will be fake, there is probably a reason why Chris charges such a small amount for a reading. |Also, why he sows the seeds of having a reading through mentioning a free reading to you.
Well, it's because he has qualified you. Qualifying you is a form of testing to see how responsive you might be to Chris's marketing efforts so far. If you pay for a reading, Chris knows you are highly suggestable (which is a hypnotic term) and that you are willing to get out your credit or debit card to pay for a reading from him.
The Perfect Victim 
Which means that you are the perfect victim. Whoever is behind Chris's website now knows that there's a high chance that you will pay for another reading. And not only that, but also that you will respond well to hypnotic suggestions. Via email, Chris will now use this information to suggest problems, invoke false hope, or fear and also to entice trust so that he can become your confidant in times of need.  
The interesting thing will be, though, is that you'll have more times of need after connecting with Chris than you ever had before!  
How Do We Rate Extraordinary Chris's Readings?
We've seen enough evidence to know that Chris's readings are fake. They are also canned readings. So, we don't rate them at all!
However, the hypnosis levels on this website are a masterclass. It's just unfortunate that the website owners are using hypnosis in a deceitful and unethical manner.  
You won't get a real reading here. You will be much better off by approaching a reputable psychic provider such as Psychic Source.
Is Extraordinary Chris Genuine?
It's possible that Extraordinary Chris may have once been a genuine psychic. We say this because we've witnessed very dated news reports and interviews which appear to include the man in the picture on YouTube.
But we also know that the psychic readings are not legit. We've seen plenty of these automated marketing strategies operating who promote fake psychic readings.
Chris's website is very dated too, as are the photographs on the site. They definitely appear to be taken with old photography equipment. Chris looks as though he has walked into 2019 from the 1960s!  We don't know why Chris' photo's look dated, but it's possible that he is no longer living. And at some point in his life, he either created this marketing system to sell, or somebody created it in his name.  
While Chris may well have been potentially legitimate as somebody with some psychic skills, the readings that you will receive will not be.
A Marketing System That Works – At Least For The People Making Money
We are assuming that it's because this 'marketing system' was created a long time ago and just continues to be a money churner, or the images and styling have been deliberately used because they make money.  And if a system is making money, and there's no desire on 'Chris' or New Lotus Web's part of keeping his image update why are they going to change it?  
How Does Extraordinary Chris's Service Compare To Psychic Source?
Website Navigation
The navigation at Psychic Source is immaculate. The site is modern and has been built to meet all of your requirements as a customer. Psychic Source is a very ethical company, and they make sure that you feel considered even through their web-browsing experience.
Whereas, the navigation on the Extraordinary Chris website is clunky and self-indulgent. It serves only the purposes of the company behind Extraordinary Chris, which is to make money.  The wording, buttons, and pages are all designed with one thing in mind – to get you to click the bait (and purchase a cheap but fake psychic reading).
Both sites from start to finish are poles apart when it comes to navigation… and pretty much everything else for that matter!
The Quality of The Psychic Readings
We've already explained in detail how and why readings from Extraordinary Chris are fake and canned. Therefore they are poor quality, to say the least. Psychic Source hosts a variety of psychic readers, all of whom have been recruited and verified by Psychic Source. Psychic Source also monitors the psychics who work for them as they work to ensure that their stringent ethical policies are carried out.
You can find a variety of different psychic readings at Psychic Source, and also check out real-time reviews. These factors mean you will see all the information you might need, or that is possible to demonstrate to help you choose a great psychic. Finally, all psychic readings are live, which means that you can talk in person to your psychic in real-time.
Choice of Services
We acknowledge that with any independent psychic, you only have a limited choice of reading styles. That's because most psychics only master a few psychic disciplines. So, with Chris, you only receive the automated psychic readings we have already mentioned, which is understandable.  
Whereas with Psychic Source, you'll have access to tarot card readings, astrology reports, rune readings, and medium readings. The only type of readings that Psychic Source doesn't offer tend to be spells and some forms of fortune-telling.
Price
Chris has a strange pricing policy.  He charges $5 for the first reading, $9 for the second and then $60 for the third. According to Chris's website, you receive more information on the expensive reading. But, of course, he fails to mention that they are automated and false readings.
Psychic Source is clear about their prices; each psychic chooses the price they want to charge and fees can range from $4 per minute upwards. Although if you are a new customer, you enjoy your first reading for $1 per minute.
Service Guarantees 
There's no money-back guarantee or any other service guarantee with Chris. But you do receive a full satisfaction guarantee from Psychic Source!
Quality of Reviews
Chris's testimonials could easily have been placed there by whoever is sending out fake readings! There's no way that we can assume that they are genuine. Whereas the real-time reviews available at Psychic Source, allow you to see the good, the bad and the ugly so you can decide which psychic looks good according to your own standards.
The Psychic Verification Process
We can't verify Chris positively, because all we have is evidence of fake psychic readings and potentially false testimonials which cannot be confirmed either way.  Chris does nothing to prove himself using external sources at all, which means that he is not verified. 
Psychic Source goes out of their way to explain how they verify their psychics. They make sure that they only have the best psychics and maintain standards by monitoring them too, which offers you peace of mind that your money is well spent if you use them.
This is also an example of how an excellent psychic provider operates, as you see Extraordinary Chris's work ethic and standards are poles apart from the best psychic providers, and you don't pay any more money to use the better service!
What Problems Have We Found With Extraordinary Chris?
The Canned Readings
Canned readings are a huge 'no, no' when it comes to psychic readings. They won't be accurate at all because they are pre-written. They definitely won't be personal! A psychic reading is pretty useless if it's not real. It just becomes a fictional story, which is probably not what you are seeking.
Excessive Use of Hypnotic Language
Hypnotic language is great when it's used for good, such as in helping somebody to overcome a personal issue. But it's often used for wrong or selfish reasons when people or businesses use it commercially. And the use of hypnotic language on the Extraordinary Chris website is strong. The reason for it is only to manipulate you into handing over your cash for a fake psychic reading.  
Psychological Manipulation
Just like many other scam psychic sites, the psychological manipulation techniques you may experience are the following. False hope, fear of missing out, and hurdles that Chris will make you think you need to cross to get to a goal (which usually includes a reading or psychic service from the site host, or one of their 'colleagues'). Some scammers have been known to invoke fear and also guilt to get you to part with your money.
What Advantages For You Have We Found With Extraordinary Chris?
None! Except for a masterclass in manipulative, hypnotic language.
Do We Recommend Extraordinary Chris?
Not at all, this is a known scam. You'll do well to avoid it!
Extraordinary Chris May Have A Friendly Vibe But He's Really A Fiend! It's All A Scam!
Extraordinary Chris is not a legit psychic provider. At least the website linked to Extraordinary Chris doesn't provide genuine readings. Don't be fooled. Instead, we advise you to check out a legit, highly-rated psychic if you are looking for a psychic reading right now.
Here Are Our Top Rated Psychic Providers
Click the links and follow the instructions to book your reading now.
Visit Psychic Source for Your Reading Today!
September 2023
All Psychics are:

Expertly Reviewed,
Available 24/7,
Mobile Friendly
Rank
Website
User Rating
Offer
Features
Visit Site
1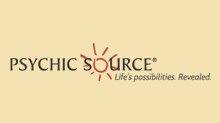 1
Chat from $1 per min
Up to 90% off your first reading
Have you ever tried Extraordinary Chris? What was your experience like? Let us know in the comments below!


Sources:
Extraordinary Chris Review